choose language
Sprache wählen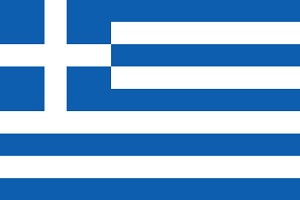 Επιλέξτε γλώσσα
Export dairy products from Poland
Export companies of dairy products from Europe
SLICES 130G The new cheese line includes popular flavours: Golden Emmental, Cheddar and Gouda
These are high quality products based on carefully selected raw materials. They do not contain preservatives and aromas. They are a source of calcium. Each open-close package contains 8 slices individually packed. The processed cheese in slices inspire both in traditional cuisine and in modern cooking. Perfect for serving hot and cold.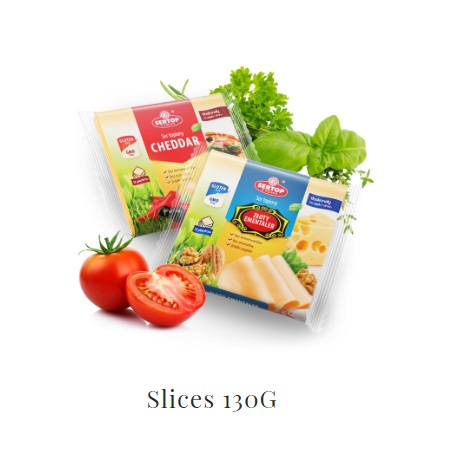 RECTANGLE CAKE 100G
Delicious processed cheese produced on the basis of carefully selected raw materials The high quality of the offered products means that our cheese spreads perfectly on the sandwich and can serve as a base for preparing many dishes.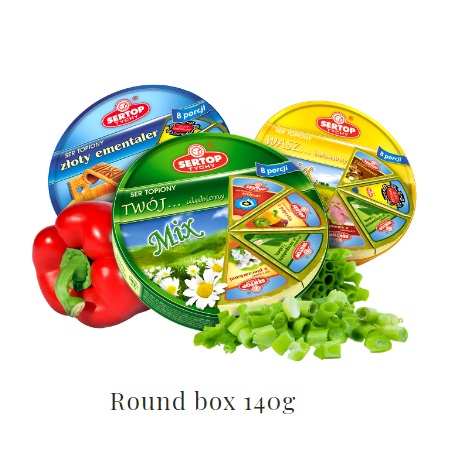 ROUND BOX 140G
The richness of four flavours in one package is an unquestionable advantage of processed cheese in rounded box type mix. Small triangular portions are ideal for preparing delicious starters served during meetings with friends, for example on party sandwiches. A great simplification is the bar making it easier to open each serving. For those who like to have more portions of a single taste, we also have solo rounded box containing 8 delicious portions of cheese in one type. They are also great for a snack.
BAR 100 G
Produced from high quality raw materials, sublimated subtle in taste and light Creamy processed cheese gives you plenty of culinary options. You can spread them on a sandwich or use as a base for preparing soups and sauces. The line includes a creamy bar, creamy with colored pepper and creamy with herbs and garlic. They do not contain preservatives, they are made from Polish milk. Perfect for people who can not imagine working without a cheese snack.
BAR 100 G
A tasteful journey to the land of childhood Both the flavour and graphic design of of the delicious "Like in the past" processed cheeses refer to the taste of childhood. Mild, creamy consistency, excellent quality and unique taste are what makes our cheeses so delicious. They are great for wide use in the kitchen to preparing various meals. The line includes the following flavours: Smoked Gouda, Camembert, Edam.
CUP 200G Hauskyzja "Ślōnski Maszket" – cheese fried with caraway seeds
Hauskyzja "Ślōnski Maszket" – fried cheese with caraway seeds, is the newest product in this group from our line, firmly associated with the Silesian tradition. Produced from Polish raw material based on well-proven recipes with a characteristic taste, which will appreciate even by the most demanding connoisseurs. This product has been created for an increasingly rising group of consumers that seek regional products.
CUP 170G Cheese fried in cups
Regional products offered in a low-fat version without the addition of butter and with the addition of butter (delicacy). Variant without butter is a great product for people who like to take care of the line.
BLOCKS 2 KG Fried cheese with caraway seeds
Fried cheese with caraway seeds is a regional product with a production's tradition stretching up to German cuisine. It was produced in a traditional way by housewives, based on a delicious cottage cheese curd. It was valued for long durability. Every housewives had his own secret recipe for this product. The cheese was eaten cold on sandwiches or hot in the form of fondue, and the addition of caraway gives it a unique flavour.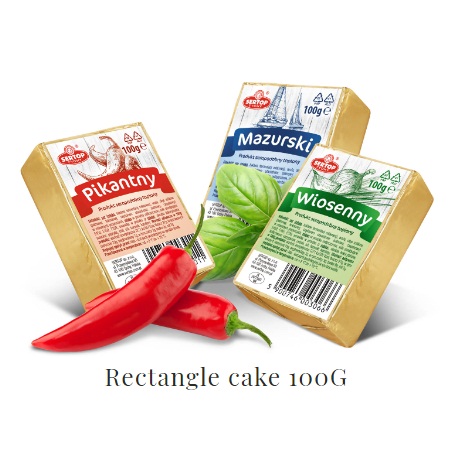 RECTANGLE CAKE 100G A great base for preparing delicious sandwiches
Processed products, often called analogues, are alternative products for processed cheese. 100g rectangle cakes are the most popular form of packaging for this type of products, very popular in the segment of economic products. They do not contain preservatives, they are made of Polish milk. Free from GMO and gluten. They are a great base for preparing delicious sandwiches.
ROUND BOX 140G Tastes of solo, two-flavoured and mix
The second most popular packaging in the segment of processed products is a 140g round box containing 8 portions of the product. Each serving has a stripe that facilitates the opening of individual triangles. In this group of products, we offer both packages containing flavours solo, as well as two-flavoured and one mix.
SAUSAGES 100G Great for pastes, soups and sauces
Processed products are packed in a plastic foil, closed with a metal clip. Popular called "sausages". They contain products that are great for preparing all kinds of pastes, soups and sauces.
ROUND BOX 280G XXL packaging
This product is suitable not only for a sandwich, but also for the preparation of various types of interesting dishes, such as soups in the form of creams, cheese sauces or casseroles. This versatile use means that consumers often put processed into the shopping baskets also in the family version, in the form of eg. 280g round box, enough to prepare a meal for the whole family. The XXL size of the box allows for economical use, also by people who consume smaller quantities. In a word – nothing is wasted!
About
GET TO KNOW US
SERTOP Ltd. has been in existence for over fifty years, and is one of the largest manufacturers of a number of processed cheeses in Poland.
We operate on the domestic and international market
The company holds the BRC Global Standard Certificate and the IFS (International Food Standard) Certificate. It is also authorised to export goods to the EU.
Sertop distributes its products through most of retail chains in Poland, and exports processed cheese to over than 21 countries, e.g.: USA, Canada, Israel, Czech republic, Germany, Bulgaria.
CHEESE PRODUCTION
Get to know our products
We offer consumers a wide range of processed cheese and those who are attached to tradition – fried cheeses.
A well proven manufacturing technology, traditional recipes, the best raw materials and strict control at each production stage guarantee high product quality. The products do not contain preservatives and have an exceptional and refined flavour obtained by using only natural additives. Cheese is rich in easily assimilated proteins, mineral salts, vitamins and microelements.
All products of the company are made of the high quality dairy raw materials and their suppliers are selected according to strict criteria.
TECHNOLOGICAL PROCESS
The technological process, in a big simplification, consists in subjecting thermal treatment to a mixture of carefully selected raw materials – several types of hard cheeses, butter and flavoring additives. The raw materials contain easily digestible protein, fat, vitamins and minerals, micronutrients or ingredients that make up the high nutritional value of processed cheese.
A wide range of flavours, for example smoked chicken, ham, salmon, pepper, mushroom, sunflower, garlic, chives, gives the opportunity to satisfy various preferences of consumers.
Proven production technology guarantees the health safety of products and in combination with a properly selected type of packaging extends the ability to store products, in some ranges even up to 180 days, without the need for preservatives. All this makes SERTOP processed cheese products an excellent food product for the whole family.
The "Business Fair Play" certificate 2018 is awarded to companies operating in business in accordance with the principles of ethics. This program appreciates the reliability of our relationships with employees, suppliers, customers and consumers. It helps to strengthen the image of the company.
Copyright 2022 © COMPANIES FROM EUROPE