Export fresh fruits and vegetables from Europe
A C GALATADON " NEA RIZA " EXPORT FRUITS FROM GREECE
Exports fresh Greek kiwis
Cultivation of nectarines
The timeless cultivation of nectarines by the members of the cooperative in the Galatades area is supervised by specialized scientists
NECTARINE PRODUCTION / HARVEST
Strict adherence to the schedule set by our specialized academic staff has a positive effect on the success of our ultimate goal.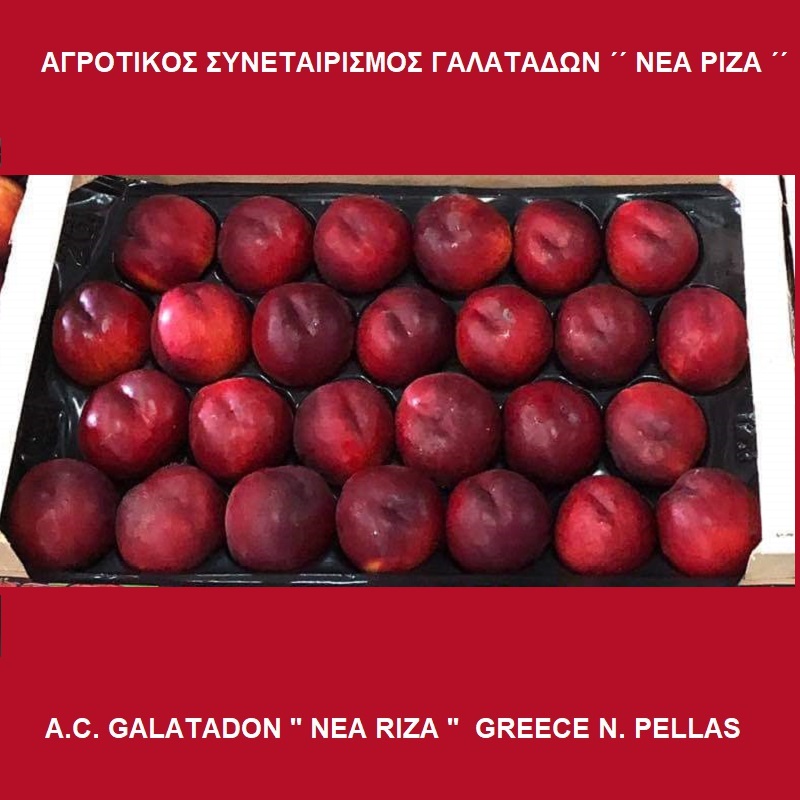 SORTING / PACKAGING NECTARINES
The qualitative classification of the nectarines during sorting is carried out in full application of the EU regulations, which set the minimum requirements for marketing through to the definition of the highest quality products.
PALLETIZING / TRANSPORTING NECTARINES
We strictly adhere to the most comprehensive safety measures for the proper transportation of nectarines to any part of the world that we request.
Our company

About us
The company AS NEA RIZA was founded in 2014 under the leadership of Mr. Avramidis Panagiotis and is located in the rural area of ​​Galatades in the prefecture of Pella.
In Galatades are cultivated areas corresponding to 20 thousand tons per year such as peach, nectarine, nectarine , apricot, plum, kiwi, persimmon and pomegranate.
Nea Riza is active in the field of packaging and export of fresh products with exports to many countries in Eastern Europe such as Hungary, Ukraine, Moldova, Estonia, Romania, Bosnia, Croatia, Bulgaria, Albania, Skopje, Serbia as well as to countries in the Middle East. such as Iraq and Jordan.
In the years 2021, with the implementation of the idea, the company established a processing branch, with the main production being the jar of asparagus, the compotes and the sauce.
GREECE
Contact info
A C GALATADON "NEA RIZA" EXPORT FRUITS FROM GREECE
GREECE N.PELLAS
GALATADES / GIANNITSA
PC58300
TEL :(+30) 23820 42289
Mobil :(+30) 6988560217
e-mail : neariza@outlook.com.gr
FOR MORE INFORMATION VISIT OUR WEBSITES
Copyright 2022 © COMPANIES FROM EUROPE